About the Author
Lillian Cummings Densley, enamored with Oregon Trail and Baker County history, was educated in the near-by community of Eagle Valley, but called "home" the Cummings family ranch located along Snake River 25 miles north of Huntington, Oregon.
Lillian and her husband, Glenn Densley, currently reside in Baker City, Oregon. They are collectors of local history and artifacts, and have been among those instrumental in preserving Baker County's colorful past.
Literary resources to generate the manuscript of Saints, Sinners and Snake River Secrets, were researched at Eastern Oregon College and Baker County libraries and combined with the memoirs of Lillian's mother, Jessie Sullivan Cummings, an early day County school teacher.
This unique history of the Snake River area contains more than 100 authentic photos dating from the late 1800 and early 1900 periods as well as nearly a dozen colored paintings of illustrative western art by the late Melvin C. "Mel" Whitney of Payette, Idaho.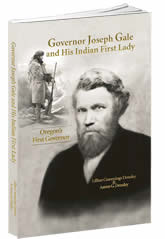 See Lillian's New Book!

Governor Joseph Gale and
His Indian First Lady

The life and times of Joseph Gale and the founding of Oregon's First Provisional Government.

JosephGaleBook.com